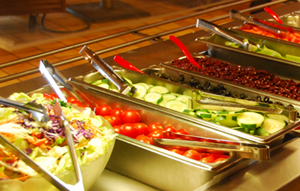 OUR SPECIALTIES
CATERING
Our catering service is not only restricted to food, as we can also offer waiting staff, linens, dining facilities, table, chair, lights, and every thing that you need to perfect your event. We can also run your in-house canteen, and make sure the company's employees don't settle for just a cafeteria lunch, but rather a dining experience that will help build staff satisfaction, gather your employees together, and reinforce a positive work place.
At VenYou Catering, we have specially-trained staff for housekeeping services, making sure the company operates at the highest level of professionalism and hygiene. Also, we are fully equipped to handle remote site management, as well as support services and event management solutions for your next function.
For your next function Our services and catering solutions are specifically designed to fit your requirements. It is first and foremost about what our client needs. Whether you are looking for a whole serviced-buffet, seated lunch or dinner, multiple choice hot and cold food, a 'deli' service, or full hospitality corporate events and functions.
It's rather simple, whatever your catering concern is, let our experts help you through it. Take advantage of exquisite, and cost effective solution, provided by the best in the industry.


---
REMOTE SITES MANAGEMENT
We offer Food Service, Housekeeping, Laundry, Hospitality and Logistic Services. We are known for delivering excellent facility management services at land camps, construction barges, offshore oil rigs, a factory and university across Jordan.


---
EVENT MANAGEMENT
Whether you're planning an intimate gathering for 10 or a celebration for 500, VenYou will create an unforgettable experience for you and your guests. Personalized service, meticulous attention to detail and cutting edge creative design are the trademarks that we bring to every event that we produce.
VenYou works extensively with nationally recognized experts, ensuring that only the most proven professionals take part in creating your event. We have produced events in a wide variety of venues and are experts at transforming unexpected spaces into masterpieces of design.


---
VENUE MANAGEMENT
VenYou has a reputation for outstanding venue management for numerous clients. Whether it's hosting large events on a global stage or tending to special requests, VenYou's venue management services bring the company's expertise in venue management to a large number of clients.